Our featured shop today is Carolyn's;
forpawsandhome
Check out the article here;
1) Tell us a bit about yourself.
I grew up in Winchester, Va when it was more country than city. My grandmother raised me for many years until she passed; I wish I could have had more time with her. We were always working in the gardens so we would have food to eat in the winter. Cooking, canning, cutting wood, crocheting, sewing; oh the good old days. She taught me about life and how to be independent and told me to always be doing something with myself.
I love animals and right now I'm at my capacity with eight rescues. Look out if I get a bigger place; that number will at least double!
I have always loved crafts of any kind from sewing to woodworking. I attend many craft shows through the year. My shop holds just a few of my crafts, I am trying to stock up this year for the shows. They come all at once with hardly a break in between. I wish I could do this 24/7, but have to work like most of us at a job I am not thrilled about. Maybe one day I'll be a "quit your day job" story!
2) Apart from creating things, what do you do?
I work in an office taking care of payables and receivables and what ever else they throw at me . I can't say I love my job but it is a job that I need. Pretty boring and some long, long days. I do get to sneak on the net through the day; only the computer is so slow that it is madding.
When I am not crafting I am taking care of my gang of animals.You know how demanding these guys can be. I still work a lot in the gardens gathering veggies and herbs so we'll have them in the winter.
3) Where do you get your inspiration from?
I'd have to say it goes back to my Grandmother. She pushed me so much to learn and create. I can still hear her saying "Idle hands are the devils workshop"
I get such a good feeling when something comes together and I can say yes I did it.
4) What does handmade mean to you?
Creating comes from within your mind and heart. I love it when I receive a handmade gift. I know that person took time to actually sit down and make something for me instead of going to a store and grabbing something off a shelf.
5) Who or what has been most influential, inspiring, or helped you along the way?
Again I'd have to say my Grandmother influenced me the most. I have done a lot of self help and trial and error through the years too.
6) What is your absolute favorite shop here on Etsy?
This has to be the hardest to decide; I love looking at all the shops, all the talent is mind blowing. Of all the things I do, I can not draw a lick! So, I am amazed with drawings and paintings. I will narrow it down to LisaNelsonArt and CrankyCats.
But, I love all the shops.
7) Where would you like to be in ten years, or the near future?
RETIRED! Hopefully still selling on Etsy with a bigger shop and lots of sales.
8) Would you like to say anything else?
When you are looking for a pet please please adopt, there are so many animals that are in need of your home and love.
Small Chunky Blue Dog Hoodie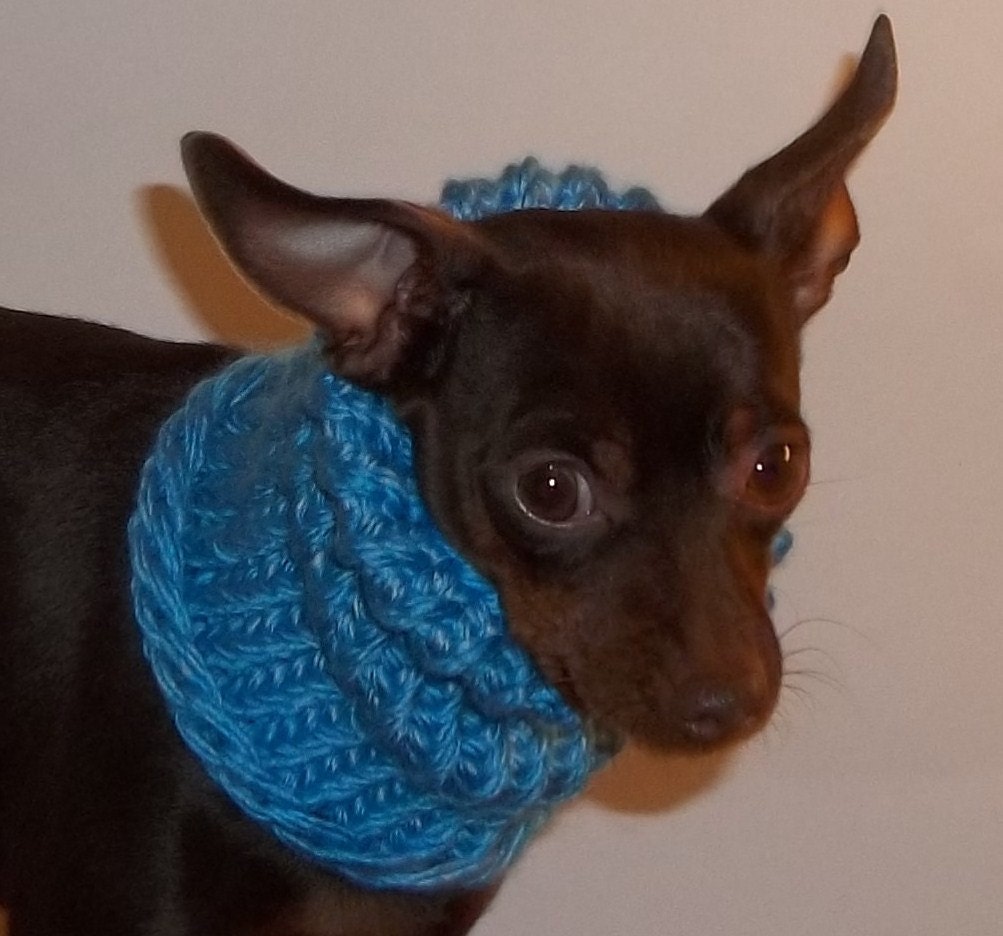 Give Carolyn's shop a visit
here
and check out her favorite shops here;
CrankyCats
LisaNelsonArt